We are currently meeting on Zoom – though we hope to get back to face-to-face meetings when we can. We will probably still have many of our speakers joining us online and we hope to have the facility for others to also join via the internet.
Once face-to-face meetings resume, we will be at West Offices, Station Rise, York, YO1 6GA.
Anyone is welcome to come along to see what our meetings are like – but we ask people to join us if they want to continue to attend.
We meet on the third Tuesday of each month at 5.30.
Our last meeting
Our last meeting was on Tuesday 17th May. Our speaker was Tom Druitt, the founder & CEO of The Big Lemon CIC, a social enterprise based in Brighton whose vision is to ensure that, by 2030, every community in the UK has access to affordable public transport, run with zero-emission vehicles, powered by renewable energy and owned by the local community.
Tom has always had a keen interest in both environmentalism and mobility, and a specific interest in public transport. Growing up in rural Sussex, Tom was acutely aware of the effect of the Beeching cuts to the railway network, his own village being a victim of the cuts. As a result Tom had a vision of one day linking these communities back together with an effective public transport system.
Increasingly frustrated with the inability of public transport to provide a viable solution to the nation's transport needs and the challenge of climate change, Tom began gathering ideas for a new type of bus company, The Big Lemon. With no prior industry knowledge or training, this was a project driven by customer experience, and the concept quickly became popular. The Big Lemon was the first bus company in the UK to run all its vehicles on 100% biodiesel from locally-sourced waste cooking oil, and won the Dandelion Award for sustainable business in 2009.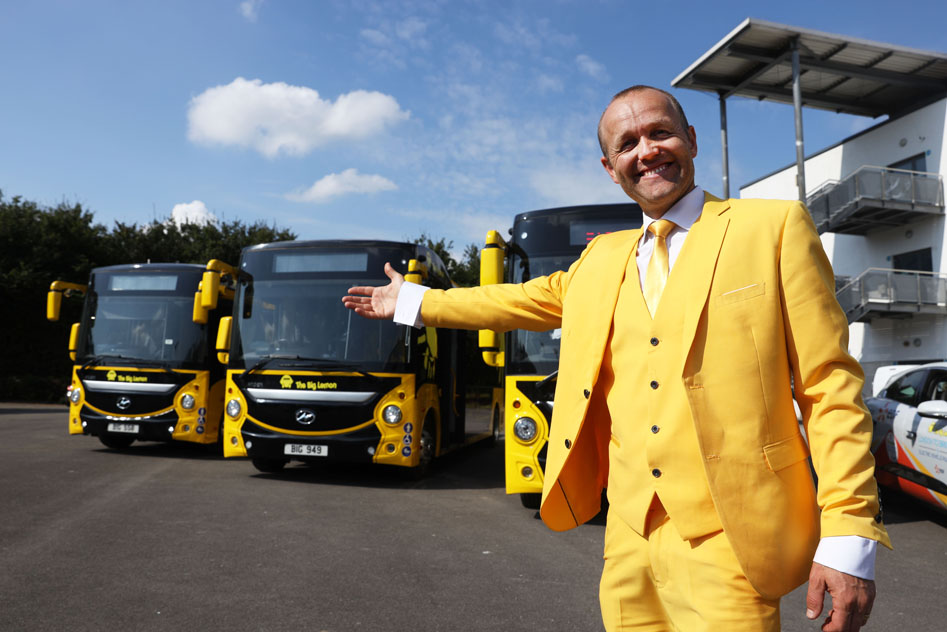 The Big Lemon quickly got a reputation for providing a friendly, community-focused and environmentally friendly service, and in 2016 won Brighton & Hove "Business of the Year" and in 2017 was announced as the "Most Sustainable Social Enterprise at the UK Social Enterprise Awards.
Tom is now a qualified Transport Manager, holding the Certificate of Professional Competence in Passenger Transport. He is also a Fellow of the Royal Society of Arts, a Councillor on Brighton & Hove City Council and the Founder of the London to Brighton Electric Vehicle Rally.
Meetings to come in 2022
Tuesday 21st June – Ray Stenning, MD Best Impressions – Why is branding important? How to do it and how not to do it
Recent past meetings
Tuesday 15th March – Andrew Bradley – East Leeds demand responsive transport.
Tuesday 15th February 2022– Alex Hornby, MD at Transdev – Buses people want to be seen on.
Read a recent article about Transdev and their approach to bus travel here.
Tuesday 18th January 2022 – Merijn Gouweloose – Ghent's local bus and tram network and how it compares with York
Tuesday 16th November 2021 – Eckhard Schlaefke, Stadwerke Munster – Bus Transport in Munster
Tuesday 19th October 2021 – Andrew Jarvis, Managing Director, First Bus Scotland – Hydrogen or Electric Buses – do we need to choose?
Tuesday 21st September 2021 – Gareth Forest TUC
Tuesday 17th August 2021 – Brian Deegan from Urban Movement – Optimising the Bus Network
Tuesday 20th July 2021 – Ben Gilligan, Area Director, East Yorkshire Motor Services Limited