We are currently meeting on Zoom – though we hope to get back to face-to-face meetings when we can. We will probably still have many of our speakers joining us online and we hope to have the facility for others to also join via the internet.
Once face-to-face meetings resume, we will be at West Offices, Station Rise, York, YO1 6GA.
Anyone is welcome to come along to see what our meetings are like – but we ask people to join us if they want to continue to attend.
We meet on the third Tuesday of each month at 5.30.
Our last meeting
Our last meeting was on Tuesday 15th November. Cathy Croston, Operations Manager of First York – and colleagues – gave a talk entitled:- "Your journey is our everything". We were treated to a driver's eye view of bus transport in with First.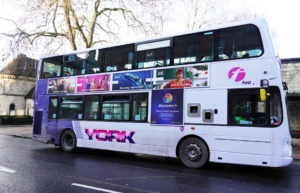 First York have been the main provider of bus transport in York since 1998. They operate most of the local services as well as the routes to and around the University of York and Park & Ride services.
There are three main colour schemes to differentiate between their services. Local service buses are white with pink and purple detail on the side but the University buses are in pink and purple livery.
Their Park & Ride fleet is all electric and is the dark blue bus at the bottom right.
They are currently recruiting drivers so anyone interested can follow this link.
Everyone is welcome to attend our meetings – just contact one of our committee members. The links are on the contact page.
Meetings to look forward to

Tuesday 20th December – Michael Howard, Head of Sustainable Transport, City of York Council:- Update on the Enhanced Partnership, BSIP and the York network. Also members' forum & Christmas celebration.
2023

Tuesday 17th January – Robert Williams, CEO of Reading Buses. Reading buses are one of the youngest bus fleets in the country. The buses are all fuelled by bio gas.
Tuesday 21st February – Fran Postlethwaite from Yorkshire and Humber Pensioners Convention. Fran heads the YHPC transport group and will talk about campaigning in South Yorkshire and any lessons there might be for York.
Tuesday 21st March – Members' forum. This is a chance for members to discuss local transport issues and highlight any problems.
Tuesday 18th April – Richard Wellings, Principal Public Transport Officer with Nottingham City Council. Richard will talk about Nottingham's BSIP and decarbonisation plans.
Tuesday 20th June – Members' forum. This is a chance for members to discuss local transport issues and highlight any problems.
Recent past meetings
Tuesday 20th September – A discussion of bus services in the York area and threats to them since the pandemic.
Tuesday 16th August – Colin Walker, Transportation Services Group Manager, East Riding of Yorkshire Council. East Riding Bus Service Improvement Plan.
A copy of the slides from the talk can be found here.
Tuesday 19th July – Mr Dave Harrison, Principle Public Transport Manager, Oxfordshire County Council, regarding the Park and Ride facilities in Oxford.
Tuesday 21st June – Ray Stenning, MD Best Impressions bus and rail marketing company. Why is branding important?
Tuesday 17th May – Tom Druitt, Founder and CEO of The Big Lemon, a social enterprise based in Brighton.
Tuesday 19th April – Julian Ridge gave a presentation updating progress in York on bus issues.